The Botanical Garden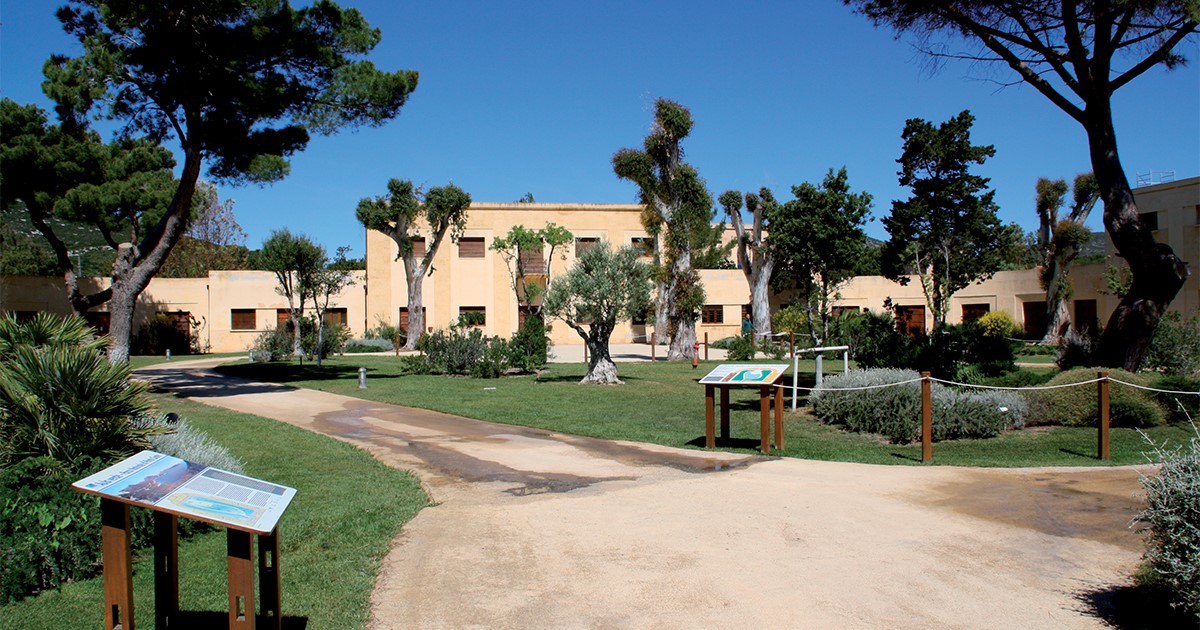 The courtyard of the Tramariglio penal colony – which is today the headquarters of the Porto Conte Regional Nature Reserve and the Capo Caccia/Isola Piana Marine Protected Area – plays host to a large botanical garden and outdoor classroom, with a specific pathway designed for those with visual impairments.
The garden, which is used not only for environmental education activities but also as a waiting area and entry point to the various museum pavilions, periodically provides the stage for cultural events and initiatives that are geared towards the promotion and enhancement of the protected areas and the outstanding features of the surrounding territory.
The botanical garden meanders its way round a route composed of six teaching stations featuring six panels that describe the Porto Conte Regional Nature Reserve's main organic landscapes, focusing in particular on the endemic and autochthonous flora.
The panels are located in front of "organic islands" composed of shrubs and plants that are typical of the Mediterranean landscape. Visitors to the garden are taken on a journey to discover the colours, shapes and aromas of the vegetation of Porto Conte, serving as the first step towards the environmental excursions that enable participants to get up-close and personal with the flora of the nature reserve, as well as being an excellent opportunity for those who, for whatever reason, cannot physically get to know the local area.
Information
ENTRY TO CASA GIOIOSA
PACKAGE TICKET
€ 10 Entry to all the museums
The package ticket gives one person entry to all of the museums of Casa Gioiosa
ENTRY TO CASA GIOIOSA
FAMILY TICKET
€ 20 Entry to all the museums
The family ticket gives entry to two adults and all children aged 17 and under
ENTRY TO THE MUSEUM
SINGLE TICKET
€ 3 Concession (ages 6 to 12) - € 5 Full
Entry to a single museum only
ENTRY TO THE CLASSROOMS
€ 1 Concession (ages 6 to 12) - € 3 Full
Entry to a single museum only
TEMPORARILY CLOSED
TO THE PUBLIC


FOR INFORMATION AND RESERVATIONS
Telephone: 079 942111
Mobile: 331 3400862
www.exploralghero.it 
TICKET
Are you interested?
If you want to purchase a product, book an excursion or receive more information on the park and its facilities, don't hesitate to get in touch.

We are ready, willing and able to help!