M.A.P.S. - Punta Giglio Sardinia Environmental Museum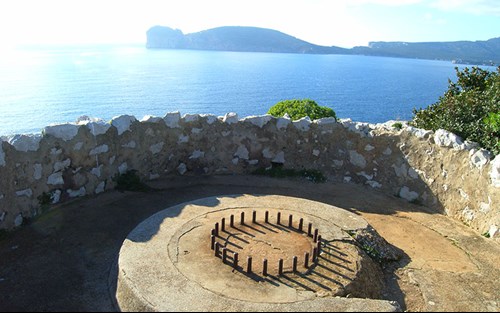 Built by the Royal Navy, the "Sr. 413" Coastal Battery was constructed between the two World Wars to protect the important Porto Conte bay, where a military and civilian use Hydroplane was present since 1937. The military outpost at the time housed 72 men: a community that watched the changing of the times by gazing at the horizon over the sea, always on alert. The sailors began to know the enemy on a warm night between July 31st and August 1st, 1941, when the two British destroyers Cossack and Maori fired some cannon shots from the darkness of the bay, although no one responded to the fire. Part of the remains of the Liiri Tower, or Giglio Tower, built by the Aragonese at the end of the 1500s, are located near the Shooting Range. The M.A.P.S. will accompany visitors through explanatory panels along the route located between the various military structures, into that not so distant world where the sound of war has been replaced by the peace of nature. Along the approach path to the promontory, dedicated signage guides visitors on an environmental path dedicated to the natural characteristics of this area of the Porto Conte Park. Visitors can also enjoy the new services provided by the Sea Refuge: a refreshment point and a hostel serving the M.A.P.S.
OPENING HOURS

MAGGIO: tutti i giorni 9.30-17.30
GIUGNO: tutti i giorni 9.30-17.30
LUGLIO: tutti i giorni 9.30-17.30
AGOSTO: tutti i giorni 9.30-17.30
SETTEMBRE: tutti i giorni 9.30-17.30
OTTOBRE: dal sabato alla domenica: 9.30-17.30
NOVEMBRE: dal sabato alla domenica: 9.30-17.30 (aperto 1 novembre)
DICEMBRE: dal sabato alla domenica: 9.30-17.30 (chiusura completa 25 dicembre) 
*Please note that for the visit to the MAPS, including the nature trails, and to use the services of the refreshment point "Rifugio di mare" it is always necessary to have an Ecomuseum ticket (excluding Alghero residents who enjoy free admission) or the Alghero ticket. The ticket office at the site entrance will be open every Saturday and
Sundays, from 9.30 to 17.30. On other days of the week and when the ticket office is closed it will be possible buy the ticket at the cash desk of the "Rifugio di mare.
TICKET
Are you interested?
If you want to purchase a product, book an excursion or receive more information on the park and its facilities, don't hesitate to get in touch.

We are ready, willing and able to help!